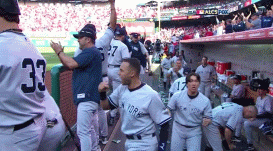 FRIENDS ONLY

Selectively Adding ♥

I'm Christina! :)
I'm twenty years old, born & raised in New Jersey (♥), but am currently attending school in good old New York.
I love laughing, music, shopping & sports.
The New York Yankees are my life & forever will be. I love soccer too, my favorite teams being Arsenal & the New York Red Bulls.
My guilty pleasure is the Law & Order SVU marathons that are always on USA. I live for that show. Oh & I guess I could say my other guilty pleasure is the Jonas Brothers.
If you want my graphics you can find them at
streetlightsss
or
cheekygeeky
.
Comment if you'd like to be added.
& credit to
wakeupinacity
for the awesome GIF.
Current Mood:
bouncy
Current Music: Lady Gaga - Love Game